The 8 best things about flatmates
Apart from sharing the cleaning roster and going halves on toilet paper, there's plenty more to like about having a flatmate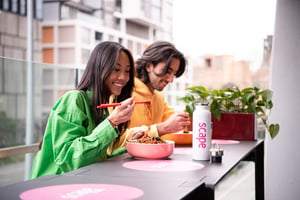 When you live with a flatmate during your university years, you go through a lot together. But apart from sharing the cleaning roster and going halves on toilet paper, there's plenty more to like about having a flatmate…
1. Your network of friends suddenly broadens.
Chances are, since you're both studying at university you may have a lot in common and could become best friends. Even if you don't hit it off with your flatmate, they may have a group of friends that could soon become yours.
2. There's a free wardrobe at your disposal.
If you're both the same size you can borrow each other's clothes and avoid the cost of purchasing a new outfit.
3. You can watch your favourite TV series together.
Whether it's Game of Thrones or House of Cards you have someone to watch your favourite show with. It's also a good way to bond as flatmates!
4. They can help with your uni work.
When you're second-guessing an essay or paper, your flatmate can look over it for free.
5. They may help you get fit too.
If you move in with a flatmate that loves nothing more than lunges and squats, you may just find your new fitness buddy.
6. You can share food together.
Things suddenly get cheaper when you're halving all expenses with your flatmate, especially the cost of your favourite food!
7. The perks of their job.
Whether your flatmate works in a bar or your favourite fashion store, you'll be able to draw on the discounts and perks of their job.
8. You'll always have someone to talk to.
If you have some great news to share, looking for advice or have a hard day at university or your job, your flatmate is the perfect person to talk to.